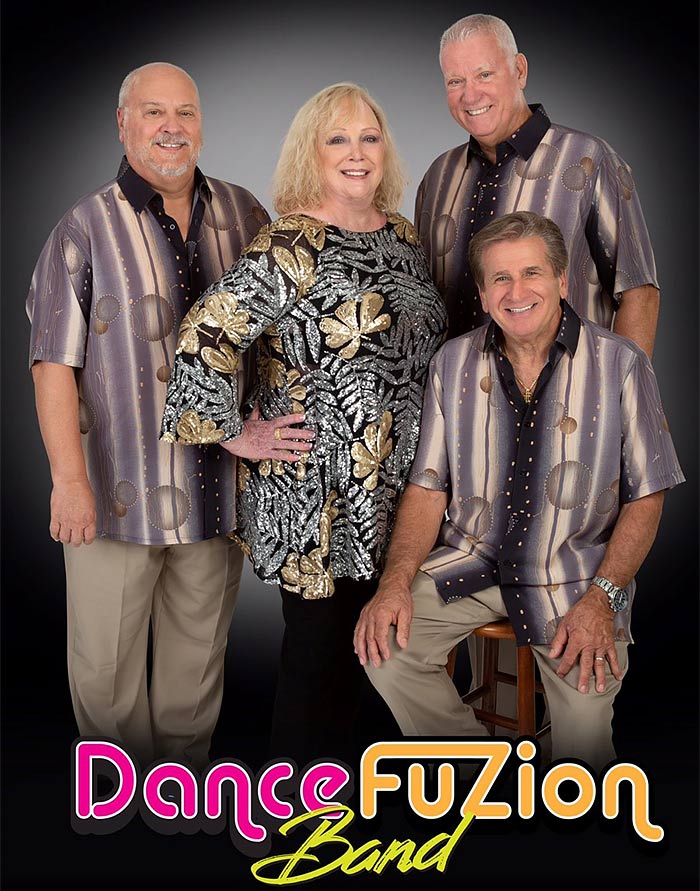 Join Us for the excitement of the Dance Fuzion Band!
Their LIVE, high energy and fresh sounds of the 60's, 70's, 80's music will have you up on your feet on Nino's Patio dance floor.
Saturday, March 6
Saturday, April 3
Saturday, May 1
6-9 pm
$7 per person
Purchase now online or call to reserve seating & the fee will be added to your tab.
The high energy and fresh sounds of the 60's, 70's, 80's music, presented by experienced professionals. They possess a true love of music and present a fun show sure to get you dancing!  The Dance Fuzion Band plays all types of events, from black-tie to a barbecue on the beach. They are perfect for date night on Nino's Patio!
The Dance Fuzion Band features four musicians, all sharing their outstanding vocal talent and harmonies.
Carolyn Krotzer – Female Vocal

Frank Nenadovich – Keys/Bass/Vocals
Jimmy Masucci – Drums/Vocals
Steve Wilkes – Guitar/Vocals
Nino's @NIGHT is dedicated to bringing you great entertainment this 2021 Season!
We know you've been cooped up too long. We provide a venue that is spaced out for your safety, both indoors and on our NEW outside Patio. Our waitstaff is masked - and if you prefer to wear a mask, you are encouraged to do so!
If you haven't been to Nino's in a couple months - you need to SEE ALL THE REMODELING we've done!! The Patio is brand new. The inside Bar has been moved and enlarged. The inside Dining Room remodeled.
Performances now indoors and on the new outdoor stage - at the same time. Do a little Karaoke indoors, then wander out to the Patio and dance to a band!
Nino's Bakery, Restaurant & Lounge is fast becoming the best place to hang-out in Punta Gorda & Cape Coral!