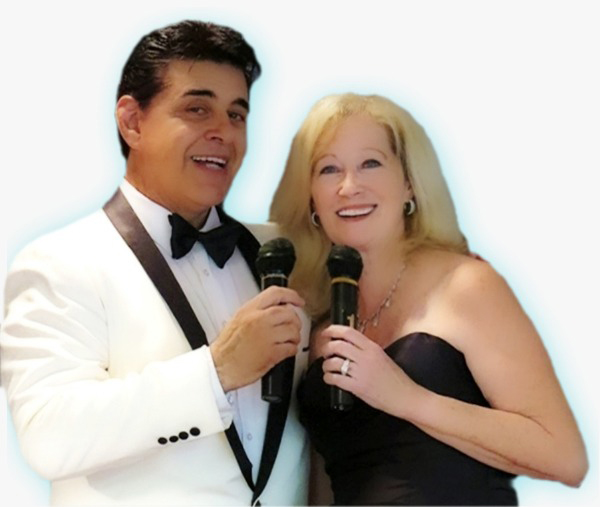 Atilio Marinelli is Mr. Romantico, along with diva Diane Potuto, Duo Romantico presents "Tribute to Legends"

Starting October 26,
then every other Tuesday, 6-9 PM
Reservations requested. ($5 per person, minimum purchase of 2 drinks or 1 food item required per person. Read our Policy.)
Call to Reserve:
941-833-8912
About Atilio Marinelli, tenor
Atilio Marinelli, an Argentinian of Italian and Spanish-Creole heritage is one of the most sought-after international musical entertainers today and is noted for being "Irresistible, Fabulous and Fun!"
Professionally known as "Mr. Romantico", Marinelli is a classically trained dramatic tenor and actor who sings a wide repertoire of international hits from popular music to opera, in English, Italian and Spanish.
Performing all over the world he has been enchanting audiences with his charismatic shows with a twist of comedy and flair.  "The best show we've seen in years!  You may laugh or you may cry but you WILL get goose bumps during this thrilling and delightful show!"
Marinelli specializes in customized, multi-media cabaret shows with "Tributes" to the big hits of the great Pop/Opera legends such as: Bocelli, Elvis, Mario Lanza, Sinatra, Tom Jones, Neil Diamond, Pavarotti and more. You will also hear him perform popular Italian songs, Cinemusic-Hollywood's most-beloved songs, Broadway gems from musicals, and golden oldies from the  50's, 60's, 70's that are great to dancing.
With the elegant combination of music and videos, Marinelli has created a feast for the ears as well as the eyes!
Born and raised in the heart of Buenos Aires, Argentina, where tango music spills from its balconies, Marinelli hails from a prestigious artistic family.  His Italian father was an amateur tango dancer, his grandmother and his sister were opera singers and his uncle (also named Atilio Marinelli) was a famous South American movie and TV actor of the 60's and 70's, not to mention that one of his relatives married the great tenor Andrea Boccelli!
Following the footsteps of his artistic family, Atilio began studying music at the age of 6 with the choir director of Balvanera Church.  At the age of 14, he became the guitarist and lead singer of a rock band – and, as a young tenor, he was selected to be in the "Argentinians Got Talent" television show.  In 1996, he founded his own entertainment company, and with a cast of 12 dancers and musicians, he performed more than 2000 Latin Shows in 16 years.
Marinelli studied opera with the great master teachers at Teatro Colón Opera in Buenos Aires and later in America with Steffanie Pearce from Opera Naples, now Gulfshore Opera, and Bill Doherty from Central Florida Lyric Opera.
In addition to his musical pursuits, Marinelli received a college degree in Architecture and a master's degree in Urban studies and was a former Argentinian Rugby champion. A hard-working entrepreneur, Marinelli started his own business as an Architect in Buenos Aires designing and building homes and business for 11 years.
In the U.S. since 2012, Atilio is thrilled and proud to have become an American Citizen in 2017!
About Diane Potuto, opera, Broadway and popular soprano
Diane Potuto divides her time between the New Jersey Shore and Fort Myers Florida.
Born in Pennsylvania and raised in New Jersey, Diane comes from a musical family. She performed at the Jersey Shore with her sister and twin brother in a musical known as "Broadway's Champagne" written by their Father, a well known author and playwright.
Diane perfected her exceptional vocal skills at Georgian Court University, and went on to be a vocal coach and teacher. She and her husband Jerry performed as duo "Just Us 2″ in New Jersey and Florida for many years. The highlight of her career was singing in Salerno, Italy in 2015.
In 2018 Diane joined Atilio Marinelli and became known as "Duo Romantico". A perfect match since Diane's forte is opera, popera, Broadway and standards. Together Atilio and Diane enjoy showing off their voices in duets such as "The Prayer", "All I Ask of You", "Time to say Goodbye"  and many more, encouraging lots of audience participation.
For an enjoyable evening with fantastic international performers, come to Nino's Bakery & Restaurant. See amazing national talent now performing in this area!