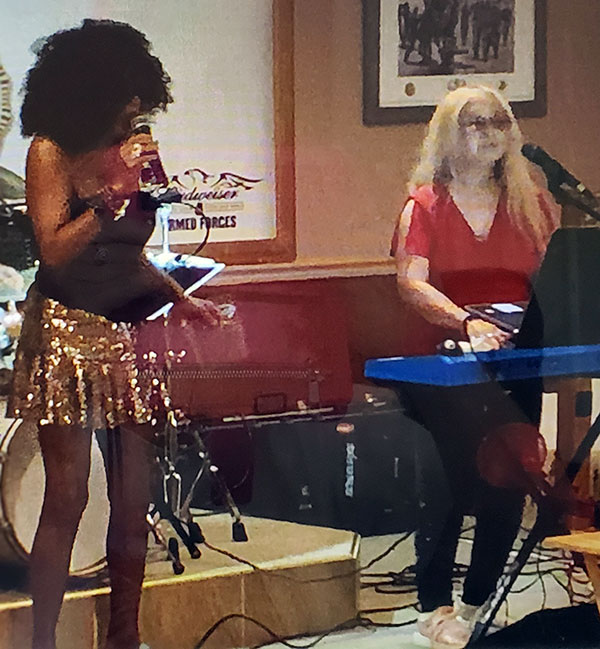 Nino's welcomes a dynamic duo
Hot Flash Band
Wednesday, April 21
6-9 pm
These 2 top national performers come together on the Nino's '@NIGHT stage singing top hits, from Jazz and R&B to Country.
Hot Flash Band is a show not to be missed! Read more about these 2 top performers…
Reservations requested. (No ticket fee but minimum purchase of 2 drinks or 1 food item required per person. Read our Policy.)
Reserve seating 941-833-8912
Meet Kathleen Craig
Kathleen Craig is a Nashville Recording artist /keyboardist. Classically trained Pro Female Keyboardist/lead vocalist that loves to make her audience happy with music that has depth and meaning. Her single "End of the World" released worldwide distribution/Colt records did well, earning her a nomination for Top New Female Country Artist Nov. 2017. Previously, she and her band performed in the Los Angeles area, moving on to Las Vegas for several years, cruise ships & road tours. Kathleen loves her country and wants only for the world to be at peace thru love of music….she says music unites people and we can all get thru anything together.
Meet Brenda Watty
Born in Baltimore,she sang in Gospel Choir at a young age. She moved to NYC to study voice and work in the music business. She sang with the female group, The Toys (A Lovers Concerto). "Discovered" by the Marvelettes (Please Mr. Postman), she then toured with the Temptations,Four Tops, the Crystals, Bo Didley, Ricky Nelson, Desmond Wilson and others. Ms. Watty, now living in Sarasota, still performs her one-woman show "It's My Time", with her band, and with other musicians in the Jazz, Pop, Dance and R & B genre.
Nino's @NIGHT is dedicated to bringing you great entertainment this 2021 Season!
We know you've been cooped up too long. We provide a venue that is spaced out for your safety, both indoors and on our NEW outside Patio. Our waitstaff is masked - and if you prefer to wear a mask, you are welcomed to do so!
If you haven't been to Nino's in a couple months - you need to SEE ALL THE REMODELING we've done!! The Patio is brand new. The inside Bar has been moved and enlarged. The inside Dining Room remodeled.
Performances now indoors and on the new outdoor stage - at the same time. Do a little Karaoke indoors, then wander out to the Patio and dance to a band!
Nino's Bakery, Restaurant & Lounge is fast becoming the best place to hang-out in Punta Gorda & Cape Coral!