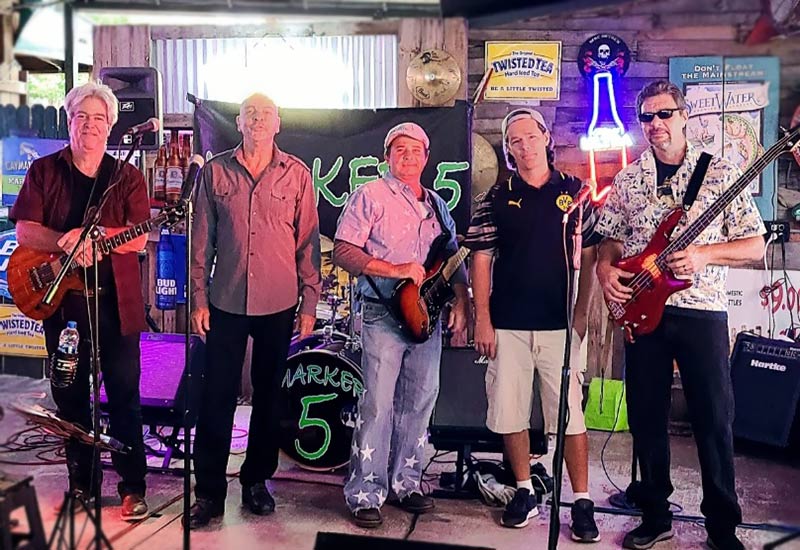 Marker 5 Band at
Nino's @NIGHT
Friday, May 21 & June 25

Time: 7 – 10 PM



A high-energy 5 piece band playing classic rock from the 60's through 2000. Tom Petty, Led Zepplin, Deep Purple, Pearl Jam, Def Lepard and more,  something for everyone to groove to – don't forget your dancing shoes!
Reserve seating, call

941-833-8912
Reservations requested. (No ticket fee but minimum purchase of 2 drinks or 1 food item required per person. Read our Policy.)

Nino's @NIGHT is dedicated to bringing you great entertainment this 2021 Season!
We know you've been cooped up too long. We provide a venue that is spaced out for your safety, both indoors and on our NEW outside Patio. Our waitstaff is masked - and if you prefer to wear a mask, you are welcomed to do so!
If you haven't been to Nino's in a couple months - you need to SEE ALL THE REMODELING we've done!! The Patio is brand new. The inside Bar has been moved and enlarged. The inside Dining Room remodeled.
Performances now indoors and on the new outdoor stage - at the same time. Do a little Karaoke indoors, then wander out to the Patio and dance to a band!
Nino's Bakery, Restaurant & Lounge is fast becoming the best place to hang-out in Punta Gorda & Cape Coral!