Visit us on National Doughnut Day (June 1) and receive 1 free doughnut!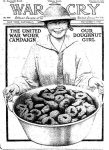 Did you know: Doughnut Day was established to honor The Salvation Army "Lassies" of World Word I.
To meet the needs of US soldiers stationed in France during World War I, the Salvation Army established huts typically staffed by 4 women who could "Mother" the boys.  Their mothering duties included providing baked goods (mostly doughnuts), writing supplies and clothes-mending services. The women were referred to as Doughnut Girls by the service men.
In World War II, Red Cross Volunteers also distributed doughnuts and they were referred to as Dougnut Dollies.
Visit Wikipedia for the more Doughnut Day History