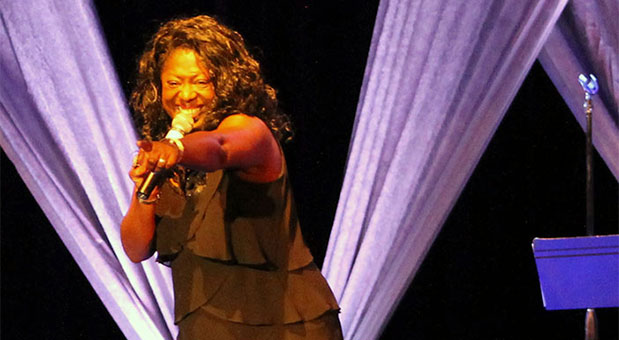 More Wednesdays
January 5 & 19
February 2 & 16
March 2, 16 & 30
April 13 & 27
Verceal Whitaker

Join Us at Nino's Patio on Wednesdays
December 8 & 22
Shows start at 6 PM on the Patio*

Verceal Whitaker, of The Platters Revue fame, takes the stage at Nino's @NIGHT. Don't miss this enchanting performance as she serves as an ambassador to the original Platters, singing all your favorite hits of the 50's & 60's.
**Reservations requested, no ticket fee. Minimum purchase of 2 drinks AND 1 food item per person required. Read our Policy.
One of the most revolutionary eras of music was created in the 1950s, setting a standard that music groups and individual artists still follow today!
Rock & Roll Hall of Fame group The Platters, created hit after hit throughout the 1950s and 60s, including "Smoke Gets In Your Eyes," "The Great Pretender," "Only You" and so many other golden classics!
Verceal started her career in Chesapeake, VA as a member of the Dawson Singers. She traveled extensively throughout the United States and Canada as a member of the popular Top 40 group, "Attraction." Blessed with a beautiful voice and an extraordinary vocal range, "The Dish" of the group is described as a true lady both on- and offstage.
Over the years, Verceal shared the stage with the Temptations, Spinners, Drifters, Coasters, Gary Pucket, Alan James' Powerhouse, Pointers Sisters, Percy Sledge, Supremes, Contours, Dan Toler of the Allman Brothers, Tucci Band, Foreigner, and so many more.
Verceal has performed at the Rainbow Room in NY, The Apollo in Harlem, Las Vegas, Los Angeles, and throughout many countries, some of which include Japan, Philippines, and Australia. Verceal is a resident of SW Florida.
**Reservations suggested. No ticket fee but minimum purchase of 2 drinks or 1 food item required.
*Weather permitting. If in doubt, please call Nino's Bakery, 941-833-8912