Some of our Specialty Drinks
Lost Tiki, Nino's Signature Cocktail – Redwood Empire Pipe Dream, Coco Real, Pineapple Juice, Orange Juice, Orgeat
Tropical Captain Jack – Jack Daniel's Tennessee Whiskey, Coco Real, Simple Syrup, Lime Juice, Dash of Bitters
Dirty Nino – Stoli Elit Vodka, Olive Juice with Olives
Rum Runner – Papa's Pilar Blonde Rum, Papa's Pilar dark rum, Bols Banana, Bols Blackbery Brandy, Pineapple Juice, Orange Juice, Grenadine Papa's Pilar Rum Float
Purple Paradise – Stoli Vodka, Blue Curacao, Cranberry, Lemonade, Grenadine, with a purple sugar rim
Caramel Apple Mule – Stoli Salted Karamel Vodka, Apple Real, Ginger Beer, Caramel Syrup
Pick Your Pepper Margarita – Tanteo Jalapeno, Chipotle OR Habanero Tequila, with Mango Real & Margarita Mix
And More!……..
Or Try a Nino's Frozen Drink
Pumpkin Pie – Stoli Vanil Vodka, Pumpkin Real, Disaronno Velvet, Nutmeg, Cinnamon and Cream, with a Graham Cracker Rim. (Frozen or Rocks)
Roasty Toasty – Siesta Key Toasted Coconut Rum Pina Colada with Siesta Key Coffee Rum Float, Whipped Cream & Coconut Flakes
Be My Huckleberry – Blue Ice Huckleberry, Blueberry Real, Lemonade
You're the Peanut Butter to My Chocolate – Revel Stoke Peanut Butter Whiskey, Trader Vic's Chocolate Liqueur, Cream
Happy Hour
Tuesday - Friday, 4-6 pm
50¢ off well drinks, house wines & draft beers!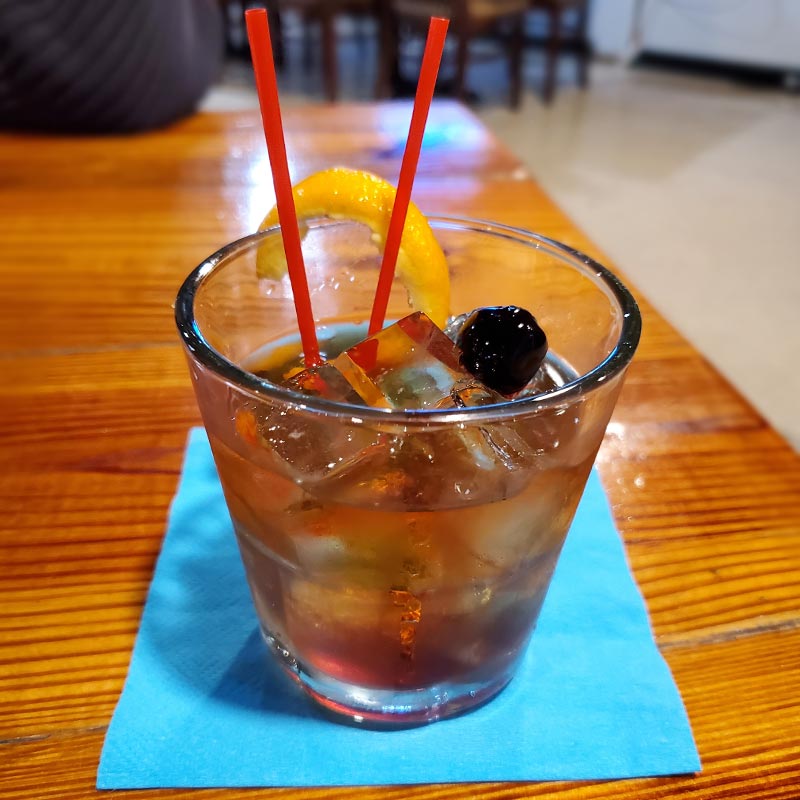 Barrel Aged Cocktails
We are not the only things aged to perfection
Papa's Pineapple Excursion – Papa's Pilar Blonde Rum, Giffards Pineapple, Giffards Banana, Orange Bitters. All aged then served over ice with Pineapple Juice & Orange Juice, garnished with a slice of Pineapple
Chocolate Espresso Barrel Aged Old Fashioned – Redwood Empire Pipe Dream Bourbon, Chocolate Bitters, Miami Club Cuban Coffee Rum Liqueur, simple Syrup. Ganished with Black Cherry & Orange Peel.
Nino's Peach Negroni – Benham's Gin, Campari & Sweet Vermouth
Mature Italian Margarita – Herradura Silver Tequila, Disaronno Aged in Barrel, then added to Citrus Sour & Orange Juice, garnished with Cinnamon Sugar Rim & Orange Slice
Draft Beer
Bud Lite
Stella
Amberbock
Michelob Ultra
Goose Island IPA
My Boy Blue
Bottled Beer
Budweiser
Bud Lite
Michelob Ultra
Amberbock
Stella
Pumpkinhead (seasonal)
Bud Lite Lemon Tea
Bud Lite Orange
Yuengling
Rolling Rock
Corona Extra
Corona Lite
Amstel Lite
Coors
Coors Lite
Budweiser
Jim Beam
Miller Lite
Mickey's Malt Liquor
Wines
House: Tunnel of Elms
Large wine list available, please ask your server.
Hard Seltzers
White Claws Mango
White Claws Black Cherry
Seagram's FL Blood Orange
Vodka
House
Rain
French
Stoli
Stoli Citrus
Stoli Mango
Stoli Ruby Red Grapefruit
Stoli Strawberry
Stoli Pineapple
3 Olives Apple Pear
Tito's
Absolut
Smirnoff
Grey Goose
Blue Ice
Gin
Tanqueray
Bombay
Bombay Sapphire
Monkey 47
Benham's Dry
Benham's Barrel Finished
Whiskey
Tullamore Dew
Gentleman Jack
Jack Fire
Jack Honey
Jack Daniels
Southern Comfort
Seagrams VO
Fireball
Crown Royal
Black Velvet
Seagram's 7
Canadian Club
Johnnie Walker Red
Johnnie Walker Black
Loch Lomond
Loch Lomand 12-yr old
Loch Lomond 18-yr old
Bourbons
Kentucky Gentleman
War Eagle
Jim Beam
Maker's Mark
Horse Soldier Bourbon
Iron Smoke Bourbon
Iron Smoke Casket Strength
Scotch
Dewar's
Johnny Walker Red
Johnny Walker Black
Rum
Jack Cross
Bacardi
Bacardi Lemon
Bacardi Dragon Berry
Papas Pilar Blonde Rum
Papas Pilar Dark Rum
Spiced Rum
Siesta Key
Captain Morgan
Tequila
Jose Cuervo Gold
Jose Cuervo Silver
Patron
Cabo Wabo
Cenote Teq
Cognac and other specialties
Courvoisier
Hennessy
Disaronna Amaretto
Grand Marnier
Annisette
Sambuca
Five Farms Irish Cream
Baileys
Upcoming Events at Nino's @NIGHT