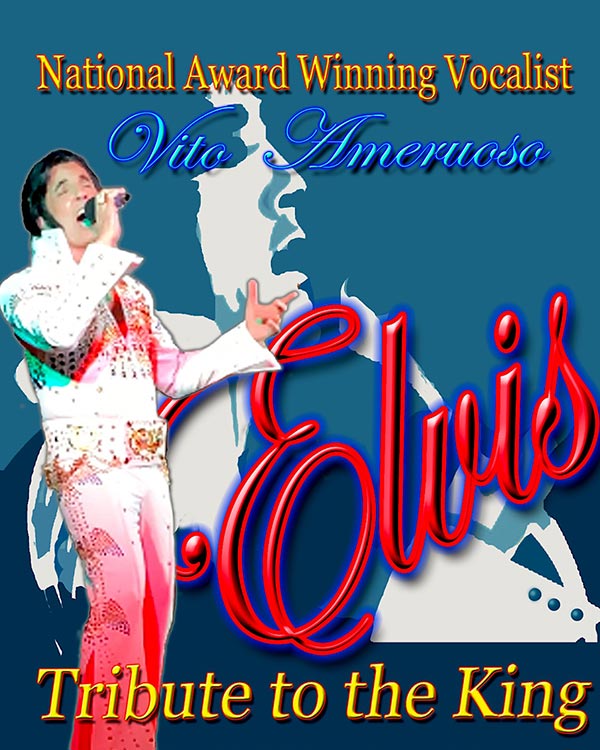 Vito Ameruoso – You know him by his Frankie Valli Tribute, Motown, & hits from the 70's & 80's Shows. Watch for his Elvis tribute show too!

Elvis Tribute Show
Dec 9

Tickets, $10
Shows run 6 PM – 8 PM.
Seating starts at 5 PM.

Reservations are requested. $10 non-refundable, ticket fee. Two-drink minimum or one food item from our Event Menu.
Vito toured with and opened for Frankie Valli and the Four Seasons. Vito sounds very much like Frankie Valli because he was mentored by the famous performer to sing in Frankie Valli's falsetto style. His singing style is so close to that of Frankie Valli's that some have accused him of playing a recording. Now living in Florida, Vito performs in casino's, clubs and cruise lines.
Vito Ameruoso, a member of AFM (American Federation of Musicians), BMI & ASCAP, is a 35-year professional in the record industry. Owning his own recording studio, he re-records hit songs from the 1960's on up to today's music. Being unique in many genre of music, his passion for music is evident in his ability to capture the quality of the songs he re-creates, bringing them right back to the day you first heard them!
He performs shows over Florida. He competed on NBC TV's "The Voice" & "America's Got Talent," taking the fans by storm. The cruise lines, clubs, casinos and theatres they filled still echo the sounds he puts his stamp on, with hits like Brandy, Burnin' Love, Layla, Faithfully, and more.
Performing nearly 300 songs, fans will hear that special song they love to hear from 'way back when'. Nothing stands in the way of Vito's hit success as he performs with national acts all over the country. You can also find their music on iTunes!
Vito bridges the change in times with his music – bringing new energy and old memories alive.
For an enjoyable evening with a fantastic performer, come to Nino's Bakery & Restaurant! Vito Ameruoso sings all your favorite hits.