Fresh Bakery & Restaurant in Punta Gorda, FL
Celebrating National Bakery Day All Through August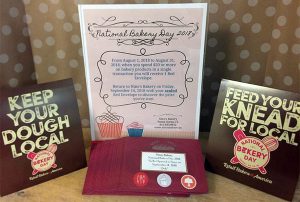 From August 1, 2018 to August 31, 2018, when you spend $20 or more on bakery products in a single transaction, you will receive 1 Red Envelope.
Return to Nino's Bakery on Friday, September 14, 2018 with your Sealed Red Envelopes to discover the prizes you've won. Prizes will range from cookies to cannolis and even a $100 gift card.
Special thanks to @retailbakersofamerica for the organizing this event and making the posters.
#keepyourdoughlocal #nationalbakeryday
Nino's Bakery is a family-owned business
Founded in 2006, we originally focused on baking bread and pastries for other restaurants and sandwich shops. In 2008, the bakery began to sell retail at the Downtown Farmers Market in Punta Gorda on Saturdays and the History Park Market on Sundays. Today, Nino's is a full retail bakery, serving hand-crafted bakery to the public and wholesale customers. The sister / brother team that owns and operates Nino's come from parents who are 5th & 6th generation bakers – making them 7-gen! And with New York City roots…
Do you miss a good, crusty hard roll with butter? You will find it at Nino's!
In our bakery shop, you can expect to find classic Italian pastries and butter cookies that melt in your mouth. All our breads, pastries and cookies are made with wholesome, unbromated flours, 100% real butter and local, farm-fresh eggs. That's why our bakery so delicious! In our restaurant, you can enjoy breakfast, lunch and dinner with the same carefully selected eggs, meats, cheeses and vegetables. On some evenings, we feature entertainment.
Retail delivery available! We travel to many areas of Punta Gorda. Just call us to order.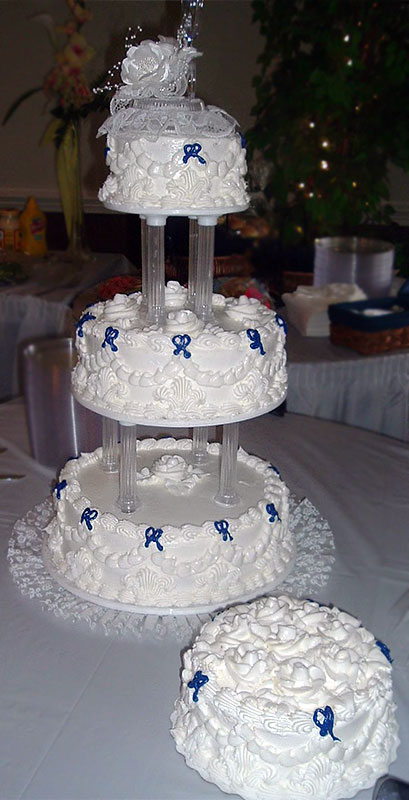 Wedding cakes take center stage in the traditional cake-cutting ceremony, but it wasn't until the 2nd century, when the Romans began baking wheat and salt into small cakes to be served at a wedding feast. During the ceremony the groom would eat part of a loaf of this barley bread and then he would break the rest over his bride's head. This was taken as a sign of good fortune and a blessing for long life, as well as many children.
The current cake-cutting ceremony symbolizes the first task that bride and groom perform jointly as husband and wife.
Order your special Wedding Cake today!
Call: (941) 833-8912
read more
We bake and deliver fresh bread six days a week to our cafés, farmers markets and other businesses throughout Charlotte County.
Our sumptuous sugar cookies are a labor of love. They are made from scratch using only the finest ingredients and extracts.
We are dedicated to making cakes that are both moist and flavorful. All of our cakes are frosted and decorated with precision.
(HINT: We were voted the #3 bakery in Florida! And we plan to stay that way – or do BETTER.)