Fresh Bakery & Restaurant in Punta Gorda, FL
Nino's Bakery is a family-owned business
Founded in 2006, we originally focused on baking bread and pastries for other restaurants and sandwich shops. In 2008, the bakery began to sell retail at the Downtown Farmers Market in Punta Gorda on Saturdays and the History Park Market on Sundays.
Today, Nino's is a full retail bakery, serving hand-crafted bakery to the public and wholesale customers. The sister / brother team that owns and operates Nino's come from parents who are 5th & 6th generation bakers – making them 7-gen! And with New York City roots…
Do you miss a good, crusty hard roll with butter?
You will find it at Nino's!
In our bakery shop, you can expect to find classic Italian pastries and butter cookies that melt in your mouth. All our breads, pastries and cookies are made with wholesome, unbromated flours, 100% real butter and local, farm-fresh eggs. That's why our bakery so delicious!
In our restaurant, you can enjoy breakfast, lunch and dinner with the same carefully selected eggs, meats, cheeses and vegetables. On some evenings, we feature entertainment.
Retail delivery available!
We travel to many areas of Punta Gorda.
Just call us to order.
FREE Donut at Nino's Bakery & Restaurant,
June 1 for National Doughnut Day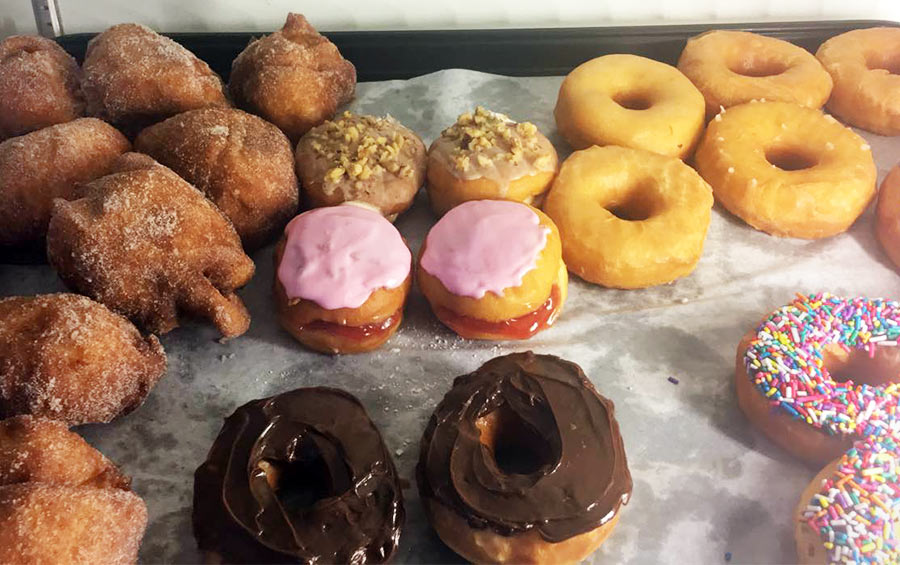 From the Oxford Companion to American Food and Drink:
"Doughnuts are deep-fried cakes with a long European history and roots in still earlier Middle Eastern cuisine. They were introduced to America by the Dutch in New Netherlands to America as oliekoecken (oil cakes or fried cakes). Made of yeast dough rich in eggs and butter, spices, and dried fruits, their sweetness came from the fruit and the final dusting of sugar. The dough was often somewhat sticky and was dropped as blobs off the end of a spoon into hot rapeseed oil (canola). The resulting doughnuts took the form of irregular balls."
In ancient Rome and Greece, cooks would fry strips of pastry dough and coat them with honey or fish sauce. In Medieval times, Arab cooks started frying up small portions of unsweetened yeast dough, drenching the plain fried blobs in sugary syrup to sweeten them. In 15th century Germany, where sugar was hard to come by, they were often cooked savory with fillings like meat or mushroom. The Pilgrims and Dutch settlers brought doughnuts to America.
When egg yolks were added to the recipe, the exterior fried faster than the middle, which sometimes ended up still raw. Putting a hole in the center eliminated the problem.
Who figured that out!? As one story tells it:
Meet Captain Hanson Gregory, a Dutch sailor. His mother made him some doughnuts for a voyage. In June of 1847, Captain Gregory's ship hit a sudden storm. He impaled the doughnut he was eating on one of the spokes on his ship's wheel to keep his hands free. The spoke drove a hole through the raw center of the doughnut. Captain Gregory decided he liked the doughnut better this way, minus the raw center – and voila! The hole in the doughnut was born. (Leave us a comment below if you know a better story.)
A distinctly American food passion, in his book "Glazed America", author Paul Mullins says that the first printed recipe for doughnuts can be found in an English cookbook dating back to 1803.
And in WWI and WWII, female Salvation Army volunteers distributed the "home taste" of doughnuts they had cooked to soldiers. "Doughnut Girls" & "Doughnut Dollies" gave the treats to the "Doughboys."
The doughnut (also spelled donut), is also a Hanukkah treat. Deep-fried dough balls known as "sufganiyot" or "bimuelos" are prepared today much as there were more than a thousand years ago. Thanks Tory Avery (blogger), for your info
Come to Nino's Bakery on
National Donut Day, June 1 – for your FREE donut
We'll be cooking up a fresh supply all day long. Open 7AM to 8PM, we also serve breakfast, lunch and dinner. And always rich, fresh-brewed coffee – to enjoy with your donut!
Swedish Chef - making donut - Muppet Show
We bake and deliver fresh bread six days a week to our cafés, farmers markets and other businesses throughout Charlotte County.
Our sumptuous sugar cookies are a labor of love. They are made from scratch using only the finest ingredients and extracts.
We are dedicated to making cakes that are both moist and flavorful. All of our cakes are frosted and decorated with precision.
(HINT: We were voted the #3 bakery in Florida! And we plan to stay that way – or do BETTER.)