Nino's Bakery & Restaurant
We are Open for Indoor & Outdoor Dining!
THE place to go in Punta Gorda for a relaxed meal with exceptional food
is Nino's Restaurant & Lounge
2-minutes off Highway 41, East at the Aqui Esta Rd traffic light, it's been called the "Best little gem in Punta Gorda"!
You'll get a hearty meal made of the freshest eggs, meats, cheeses and vegetables…
on our own breads, rolls, bagels and pizza crusts, of course!
Nino's is the place to hangout with your friends!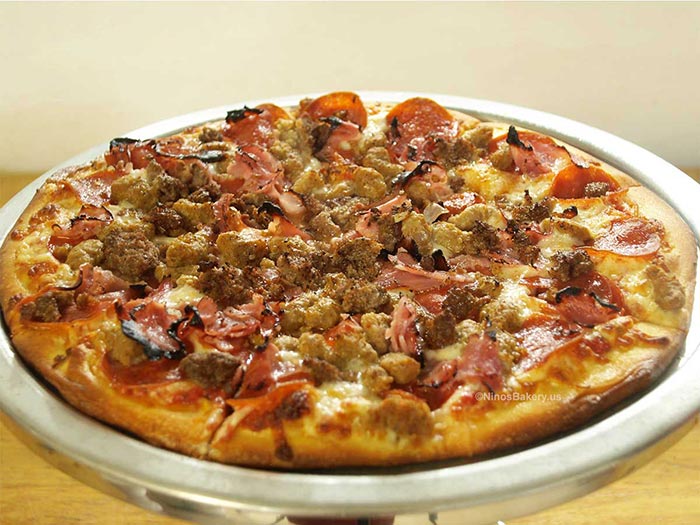 Nino's Inflation-Buster
Pizza Deals
Buy 1 – Get 1 @Half Price
Dine-in or Carry-out: Buy one pizza at regular price and get 50% off  a second pizza of equal or lesser value. Limit one half-price pizza.
$1 Pitcher of Beer or Soda
Dine-in Only: Buy one 20″ Pizza plus an appetizer (including our delicious wings) and get one pitcher of beer or soda for $1! *offer not valid during shows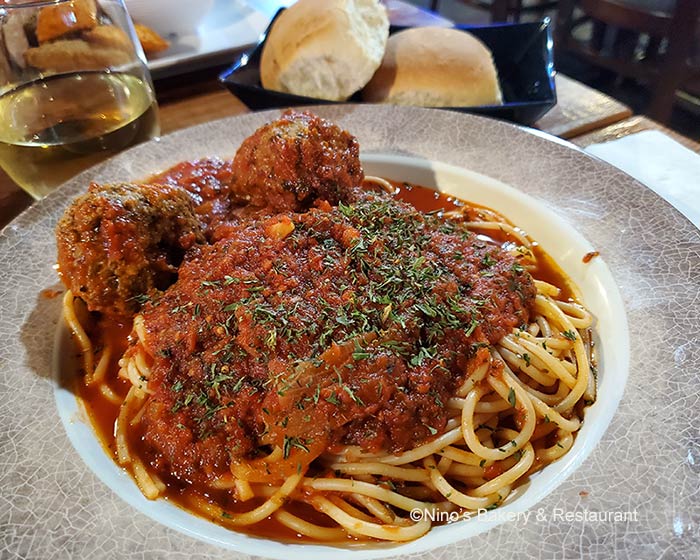 Nino's AYCE Dinner Deal, 4 to 8 PM
Every FRIDAY, All-You-Can-Eat Spaghetti Dinner for only $9.99 per person*. Delicious spaghetti, our house made marinara sauce, Nino's own rolls. Fill up your plate over and over until you're full up!
Add 1 house salad $2 /serving.  Add 2 large, house made meatballs $5 /serving.  * No sharing, no doggie bags, allowed please. (image shows dinner plus meatball side)

Our Menus:
*Prices are subject to change.
Hours Open
Take-out is available during these hours.
Sunday-Monday, 8 AM-2 PM
Tuesday-Thursday, 8 AM-5 PM
Friday-Saturday, 8 AM-8 PM
Hours may be different for special events, see our Entertainment page for details.
Take-Out & Curbside Delivery
Enjoy our full Dine-In Menus,
Purchase meals  by phone for Take-Out
Includes 1 Egg, your choice of 1 Meat and 1 Cheese
Steak, Egg and Cheese Sandwich
Bagels, Pastries & Quiche
Bagel Flavors: Everything, Onion, Plain, Poppy, Sesame, Salt
Extra Butter, Extra Cream Cheese
Quiche and Choice of Side
2 Eggs with Nino's Fresh Baked Toast
2 Egg Omelet & Nino's Fresh Baked Toast
Includes Choice of 1 Meat, 1 Cheese & 2 Veggies
2 Large Buttermilk Pancakes, variety of toppings

French Toast Challah bread, dipped in cinnamon batter, side of breakfast potatoes
Ham, Bacon, Turkey Sausage, Pork Sausage Patties, Hash Browns and Breakfast Potatoes 
Pizzas
Available in 10″ (personal size), 16″ & 20″. Choose additional toppings.
Specialty Pizzas
Chicken Veggie Pizza, House White, Veggie Lover's Pizza, Supreme Pizza, House Hawaiian, Meat Lover's Pizza
Calzone
Ricotta, Parmesan & Mozzarella cheese. Served with a side of marinara. Additional toppings available.
Stromboli
Pizza sauce, pepperoni, sausage, ham & mozzarella. Served with a side of marinara. Additional toppings available.
Toppings
Pepperoni, Sausage, Meatball, Ham, Black Olive, Onion, Bell Peppers, Banana Peppers, Mushrooms, Tomatoes
Garlic Bread
8″ Subs, Sandwiches, Wraps
Cheese Burger (8 oz blend of chuck, brisket & short rib)
Chicken Tender or Cod Basket (Lunch)
Chicken Tender Plate (Dinner)
Calamari & Cod Basket (Dinner)
Hand Cut Mozzarella Wedges
Spaghetti Marinara (add a side of Meatballs)
French Fries, Sweet Potato Fries, Onion Rings, Cole Slaw, Side Garden Salad, Side Caesar Salad
Wings:
Garlic Parmesan, Buffalo or BBQ, includes dressings
Our extensive Lounge offers Wine, Beer & Cocktails [

view

]
$3 Sharing Charge on Meals, excluding Appetizers, Pizza, & Desserts
*Consuming raw or under cooked meats, poultry, seafood, shellfish, or eggs may increase your risk of food borne illness.*

We do everything we can to ensure that the prices on our website are correct. However, prices online may differ from the restaurant menu. Prices posted on the menu in our restaurant are the most accurate and will supersede any price posted online.
Our Menus:
*Prices are subject to change.