Nino's is an Exceptional Bakery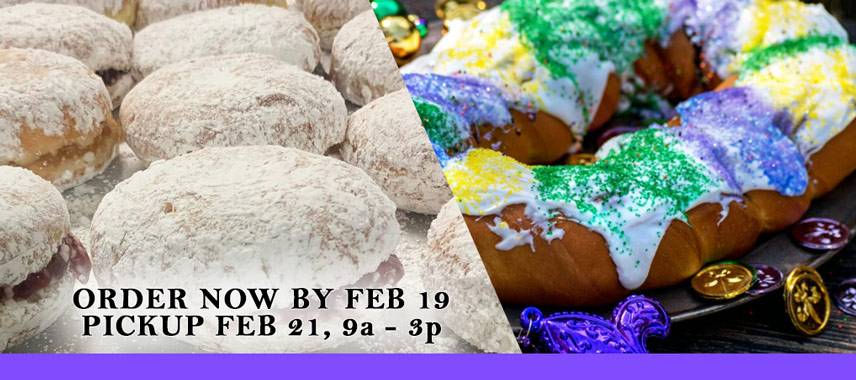 Celebrate Mardi Gras!
Order Your Paczki & King Cakes Today!
Nino's is offering another "pop-up kiosk" at their business to offer you specialty bakery for Fat Tuesday.
Pre-order Paczki & King Cakes for pick-up on Feb 21, 9AM to 3 PM.
CASH ONLY please. Some extras will be available, first come, first serve basis
Business Orders: please use this form to order. We will contact you by phone to confirm.
Nino's Paczki
Yeast donuts filled with your choice of filling, then finished with powdered sugar.
Fresh & sweet, a delicious traditional Fat Tuesday treat!
Nino's Unique King Cakes
Pecan & raisin filled danish ring topped with vanilla icing & colored sugar. And the plastic baby will be provided, on the side.
$15 each
Fat Tuesday Order Form
Order your Fat Tuesday bakery here.
Only available on Fat Tuesday.
Only from Nino's Bakery!
Please order before February 19th, 5 PM.
We're sorry... We are still closed for remodeling.
Hurricane Ian packed a wallop to Nino's Bakery. Watch our Facebook or here for further details.