Fresh Bakery & Cafe in Punta Gorda, FL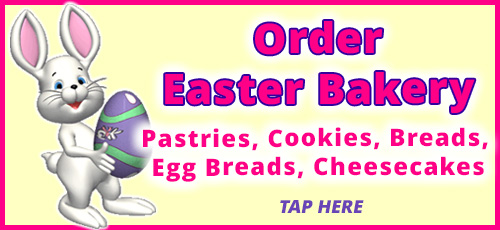 Easter Bakery Pop-up Kiosk at Nino's Bakery


April 8, 2023 – 9 AM to 3 PM
Order online from our easy form – by April 5th. Pick-up and pay for your order on April 8th.
We are still closed for remodeling from Hurricane Ian.
However, we are getting closer to reopening the ALL NEW & IMPROVED Bakery & Cafe! *Hopefully early May
Watch our Facebook or here for further details.
We bake and deliver fresh bread six days a week to our cafés, farmers markets and other businesses throughout Charlotte County and south Florida. It's available in our retail Bakery too.
Our sumptuous sugar cookies are a labor of love. They are made from scratch using only the finest ingredients and extracts.
We are dedicated to making cakes that are both moist and flavorful. All of our cakes are frosted and decorated with precision. Wedding cakes and birthday cakes are our specialty!
Try our fresh baked pastries, delicious to the last bite. We deliver wholesale to retail stores, restaurants, even a casino! We can also serve your local business meetings or gatherings.
Our fillings are made with fresh, wholesome ingredients. Our crispy, flaky crusts made with unbromated flours, real butter, Florida sugar, and real yeast for leavening.
(HINT: We were voted the 3rd-Best Bakery in Florida! And we plan to stay that way – and continue to get BETTER.)