Fresh Bakery, Restaurant & Lounge
in Punta Gorda, FL
Happy 4th of July Celebrations!
Order now for weekend party supplies. Pick-up by Saturday
(Closed Sunday & Monday)
Is your sweet tooth calling you today? Come to Nino's, we can help!
In our bakery shop, you can expect to find classic Italian pastries and butter cookies that melt in your mouth. All our breads, pastries and cookies are made with wholesome, unbromated flours, 100% real butter and local, farm-fresh eggs. That's why our bakery is so delicious!
In our restaurant, you can enjoy breakfast, lunch and dinner with the same carefully selected eggs, meats, cheeses and vegetables.
Have you experienced the entertainment at Nino's LIVE @NIGHT yet?
We bring in top-notch entertainment most weekends. Weekly regulars includes Live Music, Karaoke, regular performers and Comedy. Good music, good food, great fun!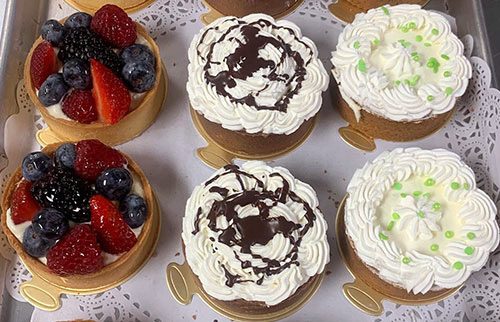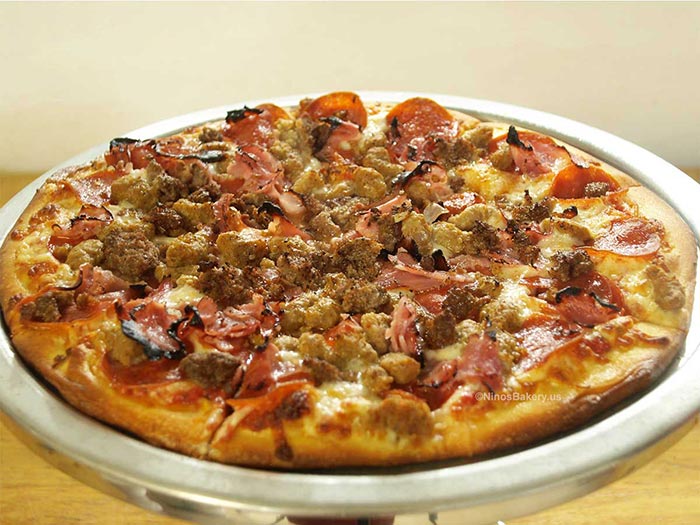 Nino's Inflation-Buster
Pizza Deals
Buy 1 - Get 1 @Half Price
Dine-in or Carry-out: Buy one pizza at regular price and get 50% off  a second pizza of equal or lesser value. Limit one half-price pizza.
$1 Pitcher of Beer or Soda
Dine-in Only: Buy one 20" Pizza plus an appetizer (including our delicious wings) and get one pitcher of beer or soda for $1! *offer not valid during shows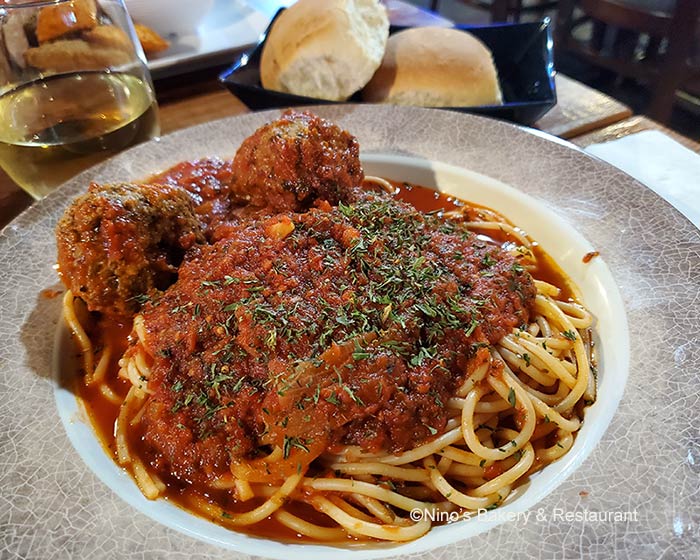 Nino's AYCE Dinner Deal, 4 to 8 PM
Starting July 1, now on FRIDAYS, All-You-Can-Eat Spaghetti Dinner for only $9.99 per person*. Delicious spaghetti, our house made marinara sauce, Nino's own rolls. Fill up your plate over and over until you're full up!
Add 1 house salad $2 /serving.  Add 2 large, house made meatballs $5 /serving.  * No sharing, no doggie bags, allowed please. (image shows dinner plus meatball side)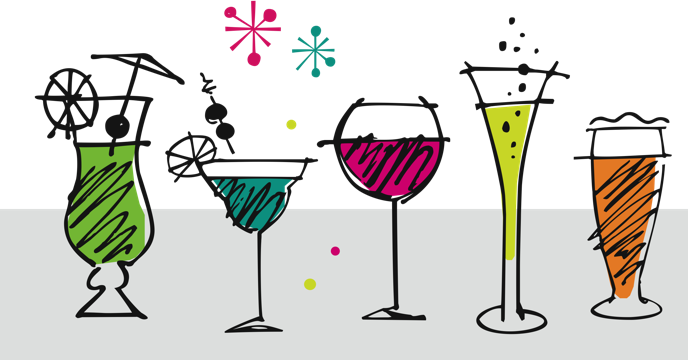 Another Inflation Buster Special at Nino's:

Summer Drink Specials
Happy Hour All Day, All Week
$2.50 well drinks. $3 house wines. $2 domestic draft/bottled beers. $3 IPA's & import beers. $4 frozen drinks. Pair this with our Tues Night Spaghetti Special or Nino's Pizza Specials.
Summertime…and the livin' is easy!
Visit Our NEW, EXPANDED Bar!
Nino's @NIGHT 2022
Entertainment
See shows below, reserve seating early online.
FULL CALENDAR HERE
Hours Open
Take-out and delivery are available during these hours.
Sunday-Monday, 8 AM-2 PM
Tuesday-Thursday, 8 AM-5 PM
Friday-Saturday, 8 AM-8 PM
Hours may be different for special events, see our
 

Entertainment page for details.
We bake and deliver fresh bread six days a week to our cafés, farmers markets and other businesses throughout Charlotte County. It's available in our retail Bakery too.
Our sumptuous sugar cookies are a labor of love. They are made from scratch using only the finest ingredients and extracts.
We are dedicated to making cakes that are both moist and flavorful. All of our cakes are frosted and decorated with precision.
Our fillings are made with fresh, wholesome ingredients. Our crispy, flaky crusts made with unbromated flours, real butter, Florida sugar, and real yeast for leavening.
(HINT: We were voted the #3 bakery in Florida! And we plan to stay that way – and continue to get BETTER.)
Nino's Bakery is MUCH more than just a bakery!
Started in 2006, we baked our wholesome, healthy breads, cookies and pastries for other restaurants and sandwich shops. In 2008, we ventured into retail with great success at the Downtown Farmers Market in Punta Gorda and the History Park Market.
It's a family affair; owned and operated by sister and brother, with help from Mom and Dad. The family's baking roots go back 7 generations, with ties to New York City!
Today, Nino's is a full bakery, serving hand-crafted bakery to the public, catering  and airline clients, and wholesale commercial customers. Expanding into Breakfast, Lunch & Dinners, Nino's offers full, family-style, casual dining 7-days a week, complete with full bar and top shelf liquors.
Have you experienced the entertainment at Nino's LIVE @NIGHT yet?
We bring in top-notch entertainment Friday & Saturday nights. Good music, good food, great fun!
Thank you so much for sticking with us! We look forward to supporting each other during these challenging times.