Fresh Bakery & Cafe in Punta Gorda, Florida
Experience the NEW Nino's Bakery & Cafe! NOW OPEN
In our bakery shop, you can expect to find classic Italian pastries and butter cookies that melt in your mouth, new pastries from our donut machine, cookies, pies, cakes, breads, and more. All our breads, pastries and cookies are still made with wholesome, unbromated flours, 100% real butter and local, farm-fresh eggs. That's why our bakery is so delicious!
In our Cafe, you can enjoy breakfast and lunch, with sandwiches and daily specials. Quickly order at the counter, then eat inside and out, or simply Take-out.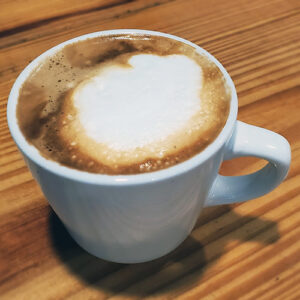 NEW! Come in for your coffee break: American, espresso, cappuccino, and specialty coffees (which can include a shot of your favorite liquor). Every cup is fresh ground and brewed! Internet and phone plugins available at the tables.
Try our daily hot breakfast/lunch specials, as well as Take-n-Heat meals of some of our signature dishes.
We still make delicious specialty cakes – ready-made or special order, including Wedding Cakes. We still cater business meetings, parties, and private inflight meals; call for catering your events: 941-833-8912
We appreciate your patience and support these past months. And we are looking forward to seeing you very soon!

We were voted the SECOND-BEST Bakery in Florida! And we plan to stay that way – and continue to get BETTER.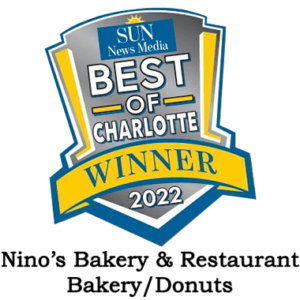 PRE-ORDER NOW
Nino's Holiday Ham Dinner, Breads, Cookies & Desserts
Orders are being taken now through Thurs, Dec 21. Pick-up on Sunday, Dec. 24.

READ MORE & ORDER HERE
NEW Bakery & Cafe
Hours Open
Take-out available during these hours.
Tuesday – Saturday, 7 AM-3 PM
Sunday, 7 AM-2 PM
Closed Mondays

We bake and deliver fresh bread six days a week to our cafes, farmers markets and other businesses throughout Charlotte County and south Florida. It's available in our retail Bakery too.
Our sumptuous sugar cookies are a labor of love. They are made from scratch using only the finest ingredients and extracts.
We are dedicated to making cakes that are both moist and flavorful. All of our cakes are frosted and decorated with precision. Wedding cakes and birthday cakes are our specialty!
Try our fresh baked pastries, delicious to the last bite. We deliver wholesale to retail stores, airports, restaurants, even a casino! We can also serve your local business meetings or gatherings.
Our fillings are made with fresh, wholesome ingredients. Our crispy, flaky crusts made with unbromated flours, real butter, and Florida sugar.
(Hint: We were recently voted the SECOND-BEST Bakery in Florida! And we plan to stay that way – and continue to get BETTER.)
Thank you to all who voted us…