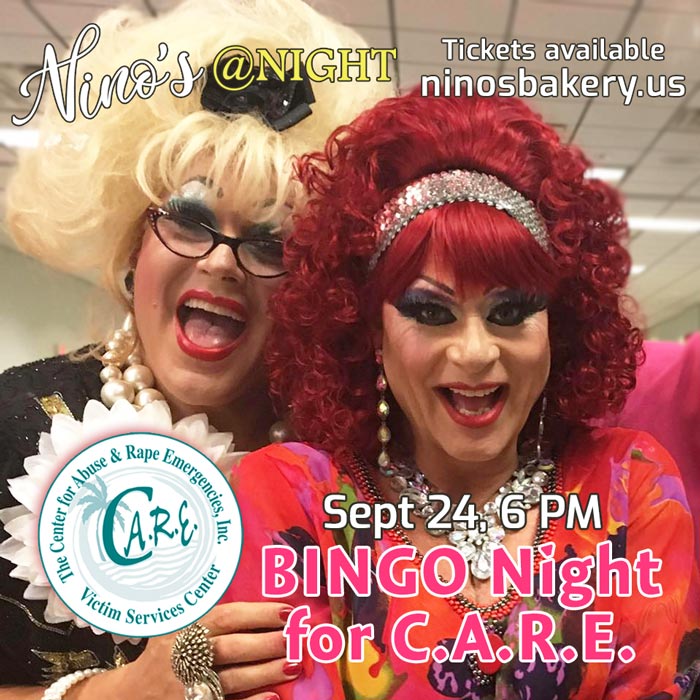 A night of Fun, Food & BINGO took place Sat. Sept 24th at Nino's Bakery & Restaurant
Bootsey & Licious, in 'gawjus' attire, performed an outstanding show, getting the audience – a full house – involved in the fun and Bingo, as they always do. The cabaret-style entertainment did not disappoint!
A very special appearance by Miss Juanita was a real treat! Showing up in curlers for the first part of the show – she let her hair down for a rockin' solo later in the show. You'll never guess who was behind that make-up and moo-moo!
The gourmet meals prepared by Nino's were outstanding. People pre-ordered either Beef Wellington or Scallop Stuffed Sole that was served before the show, while the spirits and music flowed. Dessert was a plate of delicious slices of Tiramisu and Almond Crunch Cake.
The raucous evening included comedy and 4 games of Bingo, along with a raffle and 2 live auctions. Bingo winners received a gift tray of Nino's cookies, valued at about $30. The 50-50 Raffle was won by a lucky diner who donated her winnings back to C.A.R.E., totaling $438.
Two wine baskets went up for auction. The $500 basket was won by Jersey & Alma for $350. The $1000 basket went into a duel, and was then bested by Connie Salton (Salton Travel) for $1,300. The $1,100 competing bid was also donated by Bootsey, Licious & Mrs. Blueprint, the pair's business in Port Charlotte.
Nino's Bakery donated their evening's proceedings of $1,500. All in all, $5,838 was donated during the evening.
Linda Lusk from C.A.R.E. (The Center for Abuse and Rape Emergencies) thanked the crowd for their generosity. They help victims – women, children AND men – of domestic violence, sexual assault and other violent crimes in Charlotte County. C.A.R.E. works to create safety in our community by helping survivors and by promoting non-violent and healthy relationships by education and example.
Linda mentioned that times are tough for a lot of folks right now and that the Center is full, so that the donated funds will be very helpful. And, as all were reminded by our Bingo hostesses, if you know someone who is experiencing abuse, there is a place to call for help right here. Do not delay and call the Hotline at 941-627-6000 for help.
Thank you all for coming, participating and donating to C.A.R.E!! We truly appreciate your generosity!
Miss Juanita (aka William Levi of Nino's) says "You can still make a donation…"
Tap picture to open Gallery!
Do you have more pictures we can use? Email them here: cejay08@gmail.com