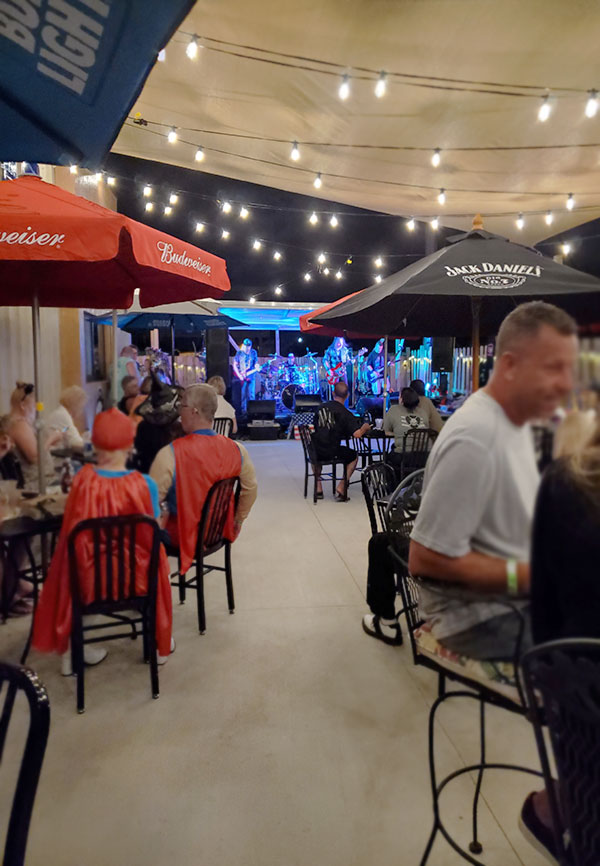 Nino's Bakery & Restaurant has remained open throughout the 2020 pandemic. "We never closed! When there was a Safer at Home order, we continued to provide takeout meals and worked hard to make sure our employees got paid."
Nino's supports the community through their "Donate a Meal" program and fundraising at various performances. During early summer, Nino's donated bread to the Homeless Coalition. At Thanksgiving, Nino's sold, at cost, 150 dozen rolls to St Vincent De Paul, as well as offered free Thanksgiving Take-out meals to help the area's underprivileged and shut-ins. This, in addition to supporting local sports, schools and the arts.
As soon as possible, in July 2020, Nino's brought back singers and groups, a segment of the community hard-hit by the pandemic closures. Some recent performers to the calendar had been out of work almost 6 months!
With the addition of the outdoor Patio in November, Nino's has been able to expand their entertainment offerings while providing a safe distancing dining experience. With warm days and cool nights, Florida's Winter weather provides a fabulous outdoor experience.
The inside has been remodeled too! The new, expanded bar and reconfigured seating helps with social distancing while accommodating small groups. Join Nino's for Happy Hour, Monday – Friday, 4-6 pm.
Daily entertainment includes:
Live music in a variety of genres, including Jazz, Classic Rock, Blues, Latin, Big Band & Country (coming in Jan 2021)
Karaoke
Open Mic Night
High Stax Poker
Cornhole games (NEW)
Drag Queen Bingo
Dinner shows
Recently annexed into the City of Punta Gorda, the Nino's Bakery & Restaurant family owners strongly believe in the City. They are also members of the Punta Gorda Chamber of Commerce and support area business.
Click a picture to open Gallery.